None
I regret online viewing of Follow Me Mum is unavailable at present. I hope the service described below will be available again at some time in the future.
Unlimited viewing:
For Mothers: 1 week - if you are experiencing latching difficulties
OR 4 weeks - watch "Follow Me Mum"

before

and

after

you have your baby
Health Professionals: "Follow Me Mum" on your computer, laptop or tablet
NOW AVAILABLE 
for 1 year!
Watch the sample below or click on the TV icon to watch "Follow Me Mum"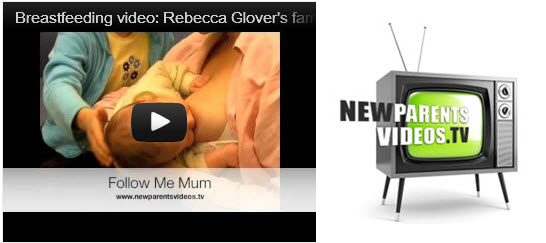 For Mothers Information Leaflets please scroll to page end
About this new service:
I have always wished there was a way to make "Follow Me Mum" readily available to mothers  who were experiencing latching difficulties. 
I found a way, by teaming up with www.newparentsvideos.tv who had the dream of making, best practice parenting videos available online.
I hope breastfeeding mothers and health professional helpers will find this new service helpful. 
Here's how one mother described her watching experience:
"I was about ready to give up, when a volunteer consultant lent me your video.  The calm tone, reassuring message and very simple but clear diagrams helped me understand what countless other literature sources had failed to do.  I must have watched the video ten times.  A day later, my daughter and I were on our way to a great breastfeeding partnership."  Emmanuelle  2009
Mothers Information Leaflets - Print Now
Quick, effective, economical - let mothers know about 'Follow Me Mum" online.
Looks good in either colour or black and white
SET PRINT SIZE OPTION TO 'ACTUAL SIZE' then print and cut to make three separate leaflets. 
Click below to open the appropriate paper size for your region
 Mothers_information_Leaflet-Follow_Me_Mum_ONLINE_-_USA-CA-14.pdf