Wall Poster Attachment - The Key to Successful Breastfeeding 1 copy
$18.15
Inc GST AUD
$16.50
Outside Australia
For bulk discounts, please select below
Laminated Wall Poster - A3 Size (16½ x 11¾ inches)
These simple steps and graphics can help build a mothers independence, confidence and successful experiences.

" … your film "Follow Me Mum" has increased the number of women able to latch in my clinic. … I find the poster helps to reinforce the teaching.'
Lori Levere RN BScN IBCLC. Feb 2012 read more ....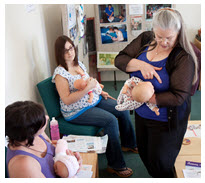 "Repeated modelling of successful behaviours and breaking a complex process into easy steps have been shown to improve [breastfeeding] self-efficacy." (Bandura A. 1977) (Noel-Weiss J. 2006).
You can help - model the behaviours for a mother
(With your body and a soft bodied doll)
How to sit with an open body, upright or leaning back slightly, always against good support.
How to position her arm and hand under baby's neck and shoulders.
How to position baby on her body, facing her, prone, chest and chin against the breast, head tilted back.
How to use a finger or thumb to shape her breast and offer baby more breast below the nipple.
Use the hamburger analogy described in the 'Holding Me" materials and in for more detail go to, Glover R, Wiessinger D. 2012.
How to help her baby anchor the bottom lip and chin on her breast for a deep latch.
Areola size varies – the bottom lip needs to anchor at least 3-4 cm from the base of the nipple



"Given the many stumbling blocks 21st century mothers face, breastfeeding success will not always be immediate, but when we can accurately demonstrate innate [latching] behaviours to a mother, it can be achieved one step at a time." Glover, R., & Wiessinger, D. (2012)
The behaviours described in Rebecca's materials help mothers across the spectrum of early breastfeeding problems but become especially important when anatomical variations, such as, flat or inverted nipples, mild tongue tie, a shorter tongue or a more recessed chin, interfere with a baby's ability to scoop up enough breast to seal against all the surfaces of baby's mouth, and trigger the effective sucking and swallowing that accompanies deep comfortable attachment.
A useful poster for:

• Hospital rooms
• Child health centres
• Lactation Clinics
References & Recommended Reading
© Rebecca Glover Jan 2012
May be copied for individual educational purposes only. All other reproduction prohibited unless written permission is obtained from the author.